The Equipment and asset BOMs is perhaps one of the most important elements in the data hierarchy for any maintenance professional. Once a good asset register is in place, it is crucial for maintenance managers to understand the spares associated with each equipment – so they can create robust maintenance plans, as well as ensure the MRO inventory is right-sized for their needs.
Without hierarchical equipment or asset BOMs in place, most EAM or CMMS systems are really working blind, and unable to deliver the value they were designed to. And when records in the system are incomplete or suspect, maintenance plans are unreliable, and the organization loses out on intelligence and analytics that can drive business decisions.
Common problems we address:
Missing Equipment and Asset data in EAM/CMMS
Poor association of spares to equipment
Conflicting information on assets
Search issues within system due to corrupt data
Outdated or inaccurate MRO spares information
Lack of logical hierarchy of assets
Missing asset history, life cycle information and costs
Difficulty establishing good maintenance plans
Inability to define stock and reorder levels due to poor information
Poor visibility into maintenance expenditure
OptimizeMRO specializes in creating hierarchical Equipment and Asset BOM with recommended critical spares. The master records consist of equipment data -manufacturer, model, serial number, critical specifications of asset and spares, physical and functional locations, cost centers, and document references.
Our Asset BOM services ensure Asset data integrity (Static & Transactional) which is important to the maintenance organization, as well as all other functional groups within the organization.
Typical Asset BOM Structure
The figure below shows a typical BOM structure for an asset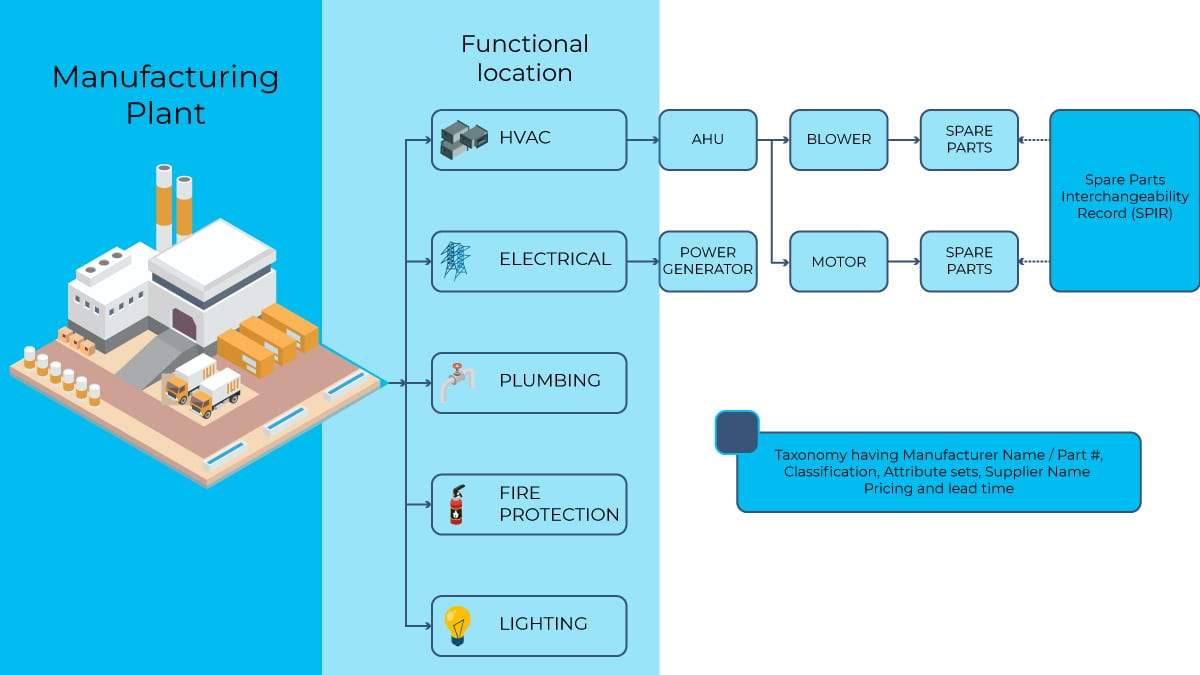 Talk to our Asset Management Services expert today!