Effective procurement strategies reduce procurement costs and improve efficiency, improving an organization's competitive advantage. The absence of a procurement strategy, however, can result in an organization spending more time and money than necessary on goods and services.
We serve as a fresh set of eyes for our clients, to open their eyes to various opportunities for procurement cost reduction, and this goes through multiple stages, right from consulting and implementation to ongoing support.
At any given time today there could be an industry that is doing well or doing badly, for various reasons; and most executives will tell you their key challenge is 'costs' across the supply chain. Most organizations have already done the standard steps that can produce quick cost reduction benefits, including supplier renegotiations. But the key question is: What are the low hanging fruits that the organization is not seeing?
While organizations strive to reduce procurement costs, their own internal procurement teams struggle with challenges such as:
Limited bandwidth
Lack of an external expert perspective
Declining value of cost savings
Our approach with saving strategies to help clients achieve procurement efficiencies is a 3-phase process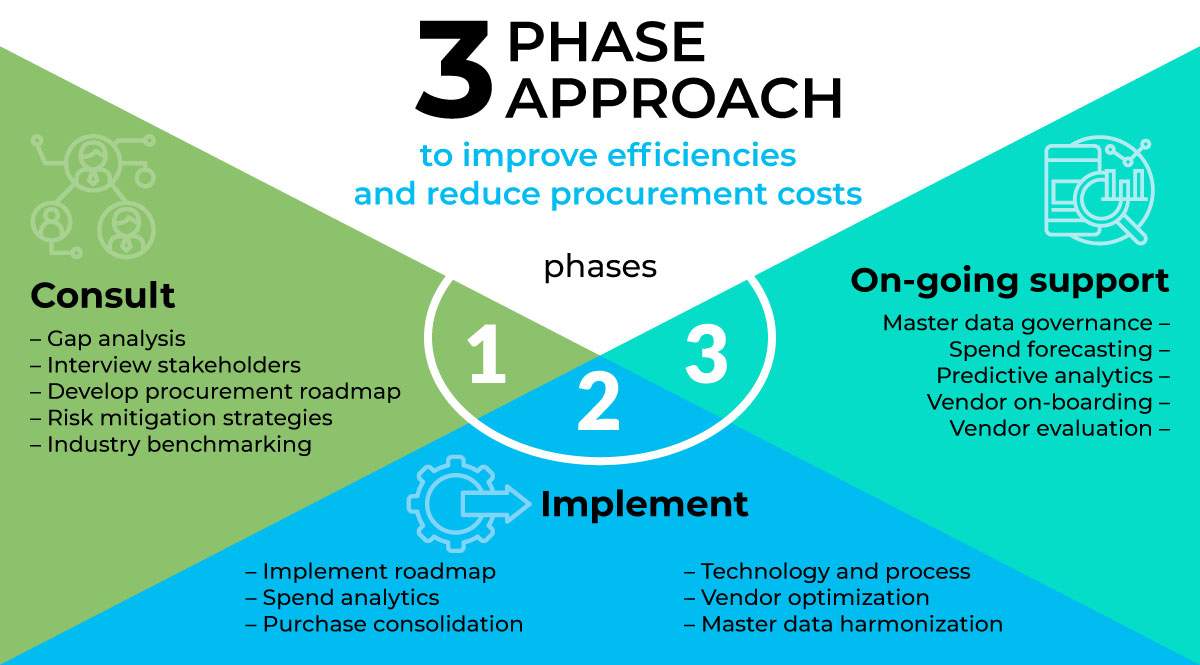 The goal for every organization is to intelligently reduce costs without creating an unwelcome level of risk. Every company has opportunities for optimizing procurement and inventory costs in order to reduce MRO costs. You only need to identify them, uncover them, and implement changes fast enough to deliver tangible savings. In order to reduce MRO costs, we take a multifaceted approach, balancing benefits versus risks. Various areas can contribute to savings, including reductions in the cost of sourcing, lower procurement overheads, efficient supplier rationalization, lower-cost alternative sourcing, improved vendor contract management, and reduced inventory carrying costs.
To learn more about how OptimizeMRO can enable you to reduce costs and improve bottom-lines for you with effective procurement cost reduction strategies, speak to one of our Supply Chain Consultants today!
The critical backbone for any spend analytics program is a good data backbone, which is a key focus in all our client and vendor engagements. We deliver reliable spend analytics services, tailored to industry and vendor-specific needs. But independent of the platform in use, the data is supremely important in making spend analysis work well.
Read More about Spend Analytics
Talk to our Procurement Service expert today!