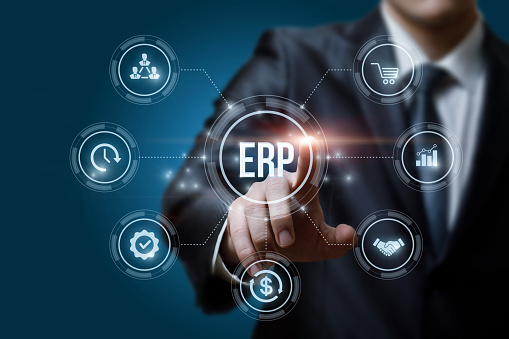 Understanding ERP
Enterprise Resource Planning (ERP) is a software that controls the finances, manufacturing, reporting, operations, supply chain, and human resource functions of an organization.
Enterprise Resource Planning is widely utilized in firms of all kinds and is increasingly being used in expanding small businesses. It is regarded as a need for major enterprises. Modern customer demands and the complexity of the global economy have made maintaining and optimizing data as well as expediting company processes crucial.

Enterprise Resource Planning offers data connectivity not only within your ERP system but also within your productivity tools, e-commerce, and even customer interaction solutions, enabling you to integrate all of your data for improved insights that will help you enhance your business-wide processes.

Role of ERP in improving and increasing Supply Chain Management 

The management of materials known as Supply Chain Management (SCM) includes the acquisition, transportation, and storage of raw materials as well as the movement of inventory for work-in-progress and finished goods from the point of production to the point of consumption. Manufacturing companies benefit from efficient supply chain management because it lowers costs, increases productivity, and guarantees timely completion and delivery of work.

Benefits of ERP supply chain management software

Enhance reporting and planning:

ERP software facilitates better task planning for businesses. Implementing ERP software across numerous departments is always a smart move to improve reporting for critical operations and duties.

Better problem-solving and customer service:

The sales team can concentrate on expanding its customer base and forging stronger connections, thanks to the ERP software. For a firm to succeed, acquiring new customers is essential. The problem facing customers and service partners can really be resolved more effectively by the integrated platform.

Improves Supply Chain Management:

There are several ways that the ERP systems support the entire supply chain. It significantly contributes to better results in less time. With the aid of the technology, the business can experience a significant increase in on-time deliveries and improve production unit efficiency. Additionally, it aids in consistently exceeding consumer expectations. Businesses and customers benefit from this combined ERP and SCM strategy.

Inventory Management

Manufacturers can control and manage their inventory and product stock with the aid of extensive inventory tracking solutions provided by ERP systems. As a result, producers can better manage precise warehouse data, arrange and categorize their inventory, and keep track of different product flows.

Procurement

It is also made simpler for buyers to understand what is required and when, especially long-lead items, thanks to ERPs' integration of the purchasing department with the rest of the shop, including the engineering department. As a result, commodities may be acquired quickly and the purchasing department can work in tandem with the rest of the company.

Materials Requirement Planning (MRP)

An ERP system provides manufacturing companies with precise data that enables them to boost organizational efficiency and cut costs. Manufacturing companies may more easily manage all of their activities, including their supply chain, thanks to an ERP, which offers a comprehensive management system that enables the integration of transactions, material planning, and other services into a single system.

Supplier Performance

ERP systems make it simpler for manufacturers to assess the quantitative and qualitative characteristics of respective vendors, assisting in the improvement of performance in the present market and better, more informed business decisions. To make sure they always choose the best vendor for the work, it is simple to evaluate vendors based on quality, pricing, and delivery dates with an ERP.

By combining purchase orders, manufacturers will also provide their purchasing department more negotiation leverage.

Asset-intensive organizations require effective systems to manage data and assets. The ERP / EAM systems serve as the central system of record for all transactions, enabling all functional groups to make intelligent decisions, adhere to defined processes, and drive all transactions. OptimizeMRO provides ERP and EAM/CMMS support services to help clients implement, integrate, upgrade, and enhance their systems with accurate data to enhance operational efficiencies. As a team with extensive experience in master data management, supply chain optimization, maintenance, and reliability, OptimizeMRO ensures that your team is not only technically competent, but also implements best industry practices as well.

Talk to a Supply Chain Management specialist.